The first Heat
&

Light

&

Cooling Sensation!
PERFECTCLIME

®

TERM

2000

IP65

L

&

H Double Heater

The uni­que com­bi­na­ti­on of per­fect tem­pe­ra­tu­re and light of the PERFECTCLIME® TERM 2000 IP65 L&H gua­ran­tees an indi­vi­du­al "feel good" atmo­s­phe­re – on the ter­race, in restau­rant are­as, indus­tri­al sur­roun­dings or whe­re­ver nee­ded. Once again BURDA Per­fec­t­Cli­me deli­vers the best pro­of for hig­hest pro­duc­tion and mate­ri­al stan­dards with this mul­ti­func­tio­n­al and power­ful, extra-long (2 meters) hea­ting and coo­ling sys­tem.
PERFECTCLIME

® is only available from us!

Under opti­mal con­di­ti­ons, the per­cei­ved tem­pe­ra­tu­re can be lowe­red by up to 15 degrees Cel­si­us (with the coo­ling noz­z­les) and increa­sed by up to 10 degrees Cel­si­us (with the hea­ting tubes)!

The PERFECTCLIME® TERM 2000 IP65 L&H, with a total length of 2 meters, two radi­ant hea­ters, four halo­gen spots and two coo­ling noz­z­les, is the most power­ful mul­ti-talent for war­ming, coo­ling and ligh­t­ing. For atmo­s­phe­ric effect ligh­t­ing, the halo­gen lamps can be exch­an­ged for color­ful ligh­t­ing fix­tures.

The illu­mi­na­ted dou­ble hea­ter with coo­ling noz­z­les also comes in the ULTRA LOW GLARE ver­si­on with 80 per­cent less red light, and is avail­ab­le with out­put levels 2 x 1.0 kW, 2 x 1.65 and 2 x 2,0 kilo­watts.

For the start-up pro­ce­du­re with pump and sup­ply line, we offer you a lar­ge pro­duct selec­tion in our PERFECTCLIME® ACCESSORY Cent­re. The tem­pe­ra­tu­re and ope­ra­ti­on time can be easi­ly con­trol­led by using equip­ment from our CONTROL Cent­re.
Model overview of the
PERFECTCLIME

®

TERM

2000 L

&

H, 2 meters
CODE

OUTPUT

COLOUR

DIMENSIONS


(WxHxD in cm)

WEIGHT

Cable Length/ Con­nec­tion
Hea­ta­ble area/m²

UPCRLH4265

2 x 2,0 + 0,10 kW
polished alu­mi­ni­um
200 x 9,5 x 12,5
7,7 kg
2 m 5-wire 1,5 mm², Wire-end slee­ves 2/N/

PE

~ 230 V 50 Hz
about 28–30
A new quick-assem­bly sys­tem ensu­res simp­le moun­ting on the wall or cei­ling. To do this, plea­se ensu­re a clearan­ce of 2.5 to 2.7 meters to objec­ts or per­sons.
The deli­very con­tent inclu­des an assem­bly kit with inst­ruc­tions. The hea­ter is equip­ped with a 1.9 m cable, inclu­ding a shock­pro­of plug.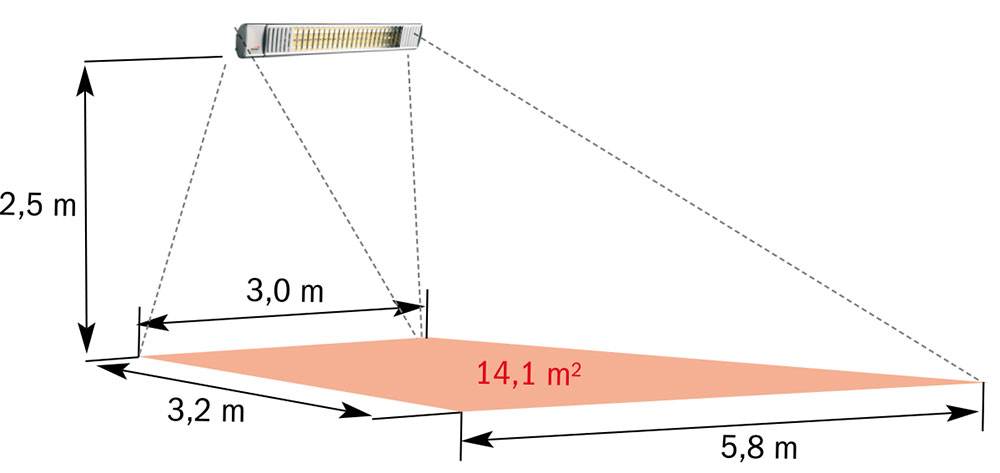 PERFECTCLIME

®

ACCESSORIES

A water con­nec­tion is requi­red befo­re the PERFECTCLIME® radia­tor can be instal­led. Water is led through a hose into a pump, whe­re it is pre­pa­red as a coo­ling mist for the coo­ling noz­z­les with a pres­su­re of 60 Bar. PERFECTCLIME® access­ories inclu­de pumps and instal­la­ti­on requi­re­ments for the mis­ting sys­tem, as well as repla­ce­ment parts and access­ories for a tech­ni­cal­ly smooth coo­ling ope­ra­ti­on.
ADD
ON
Are you loo­king for a way to install our sys­tem in a short time, and also quick­ly assem­ble and dis­as­sem­ble it? Then our clam­ping assort­ment is the right choice for a secu­re posi­ti­on and quick assem­bly.
CONTROL
Dim­mer, moti­on sen­sors and soon our new BURDA App for com­for­ta­ble, cost-effi­ci­ent radia­tor ope­ra­ti­on sup­ple­ment our assort­ment of CONTROL access­ories.
Are you a dealer or potential reseller, or looking to fit out a major project?
Plea­se get in touch with our sales depart­ment direc­t­ly for pri­ce lists, terms and pro­ject advice. You can reach our sales sup­port team by pho­ne on +49 6173 324 24 26, or send us a mes­sa­ge using our con­tact form.
PERFECTCLIME

®

TERM

2000

IP65

L

&

H Dou­ble Hea­ter
PERFECTCLIME

®

TERM2000

IP67
PERFECTCLIME

®

TERM2000

L

&

H

IP65

, 180° swi­ve­ling Spot­lights
PERFECTCLIME

TERM2000

IP65

L

&

H

FIX
PERFECTCLIME

®

TOWER

PALMS

IP67
PERFECTCLIME

®

SMART

IP24

MULTI
PERFECTCLIME

®

ACCESSORIES