Conservatory heating with infrared heaters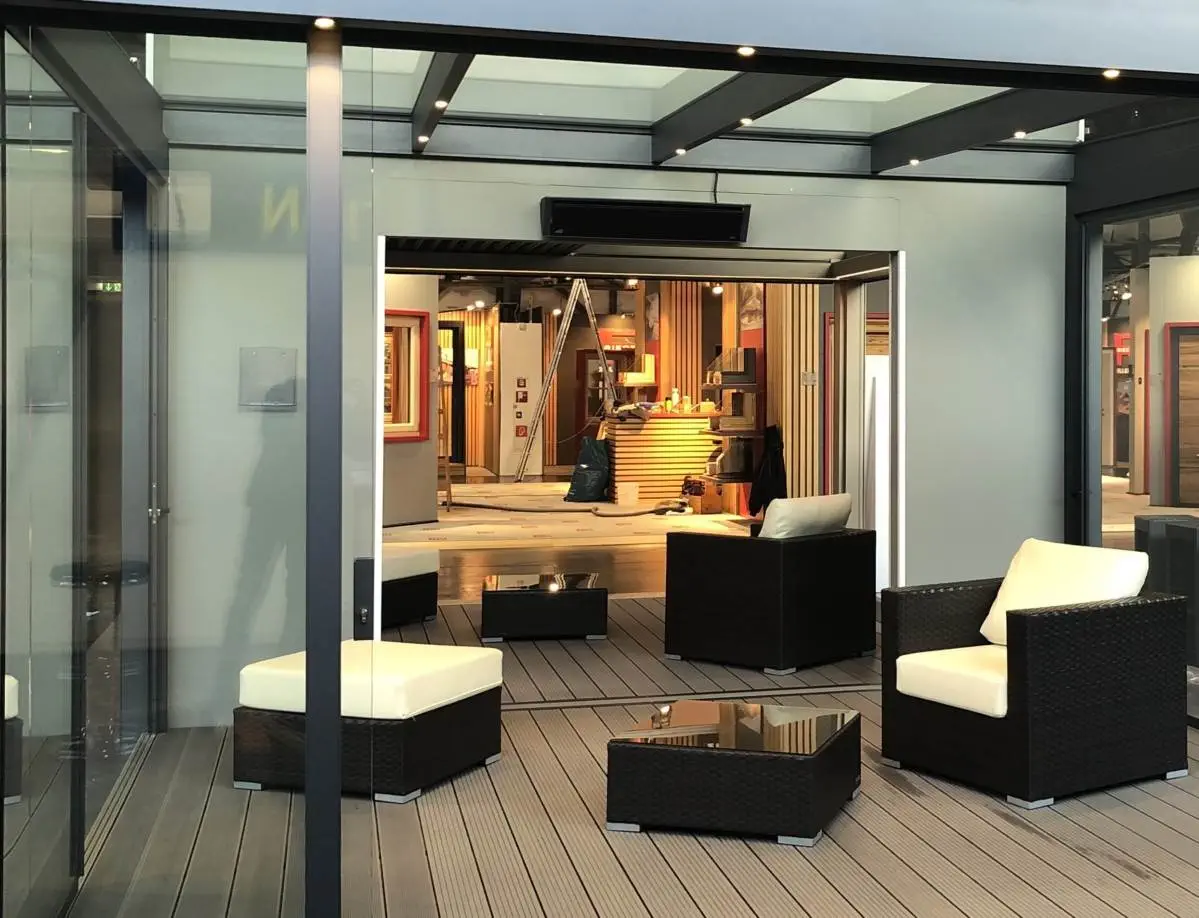 RELAX GLASS heaters with short-wave  (IR‑A) and Schott Nextrema® Ceramic Glass offer the highest heat output for your conservatory —unmatched by comparable medium-wave heaters (IR B)!
For the conservatory, infrared heaters are an intelligent alternative to conventional heating systems. They provide heat with pinpoint accuracy, which is immediately available without any need for pre-heating.
But BURDA WTG goes one step further by presenting  a modular concept for attractive system solutions in the conservatory: the infrared heaters can be combined with  LED light modules in the same design.
Instant heat in your conservatory with quality heaters from Burda WTG
Whether in the hospitality industry or at home: our heaters are a practical way to heat conservatories quickly and without lots of effort. There is no need to worry about complicated mounting or extensive installation work. The heaters ares easy to handle and can be installed on walls, under ceilings, flush-mounted with frame or set up as a free-standing unit. Our conservatory heaters are also maintenance-free and durable. You will be impressed by the excellent materials and top quality workmanship.
Enjoy your conservatory during the cool season – do not let bad weather stop you
Generally, conservatories or loggias are not heated – not an issue in summer, but it becomes a challenge on cold days or cool evenings.
Our heaters provide the solution! They use infrared rays to generate cosy warmth in a matter of seconds. They deliver the heat precisely when it is needed and do not generate any costs when switched off. Burda's conservatory infrared heaters not only provide heating in seconds! They are also silent and completely odourless. Infrared heating is invisible solar radiation that warms the body from the inside. Therefore, no heat energy is lost to the ambient air. And, what is more, it does not kick up any dust, which is a factor that anyone who suffers from allergies .
Radiant heat also has the added benefit of not drying the air, as is the case with conventional convection heaters. This is not only beneficial to people, but also to plants, of which a great variety is often found in a conservatory, and as most of us know, plants do not like the dry air usually generated by heaters.

BURDA MODULAR offers versatile heating options for conservatory heating:
Short-wave infrared heaters for instant heat in all outdoor areas

Light modules with LED spots for effective lighting accents

With reduced red light component, for an eye-friendly atmosphere

With reduced red light component, for an eye-friendly atmosphere

Modern designs in a wide range of colours, various wattages and mounting options

High quality materials and workmanship, with a guarantee

No drying of the air, which is damaging to your plants

A pleasant indoor atmosphere without dirt and dust being stirred up

Optional controls include Bluetooth, io-homecontrol®, radio-control or hard wired
A comfortable atmosphere in your conservatory thanks to our modular system
Simply combine the individual modules for a perfect living ambience with instant heat and lighting. You can choose from the elegant modules of the RELAX GLASS series, with SCHOTT Nextrema® Ceramic Glass front and TERM2000 heaters with the highest water-protection class, IP67. The modules can be freely combined or installed as standalone units. Burda WTG's MODULAR SYSTEM is the first system for outdoors, that can be freely combined in any length, colour and function for areas of any size. Our company has already won numerous awards for our products, including the RED DOT DESIGN AWARD 2019 and the GERMAN DESIGN AWARD 2019.
Instead of several stand-alone heaters, the patented BURDA MODULAR SYSTEM enables a seamless combination of infrared heating elements, Bluetooth speakers, LED modules, which can be customised to meet your individual heating requirements and design preferences precisely, and which can also be adapted to match the colour scheme of the existing decor.

Our recommendations for conservatory heaters with many extras:
A classy heating solution for the conservatory! The RELAX GLASS series is a winning proposition, thanks to its elegant design and the high-quality SCHOTT NEXTREMA® Ceramic Glass front. But the focus is on the heat output! This short wave heater is the first and only glass heater with a significantly higher heat output than comparable medium-wave products (IRB). The waterproof heater, with different colour options in terms of the housing and glass fronts, comes in various different wattages, and can either be mounted on the wall or the ceiling. There is a frame available, that enables it to be set flush with the ceiling. The conservatory heating series can be upgraded to include Bluetooth speakers, LED lighting modules and cooling nozzles. Also available as an io heater for Somfy io-homecontrol® systems. Can be combined with Bluetooth speakers and LED lighting!
The patented MODULAR SYSTEM, which has won international awards (incl. RED DOT DESIGN AWARD 2019, GERMAN DESIGN AWARD), offers the perfect solution for larger conservatories. This weather-proof system solution consists of individual modules for infrared heating, sound – with Bluetooth speakers – and LED lighting. The modules can be freely combined, in any length, design or colour of your choice. The heaters are also available as the standalone device TERM2000, with the option of Somfy io-homecontrol® radio controlled systems or Bluetooth.
xxxx
xxxx
xxx