Conservatory heating system with infrared heaters
Can be combined with Bluetooth speakers and LED lighting
xxx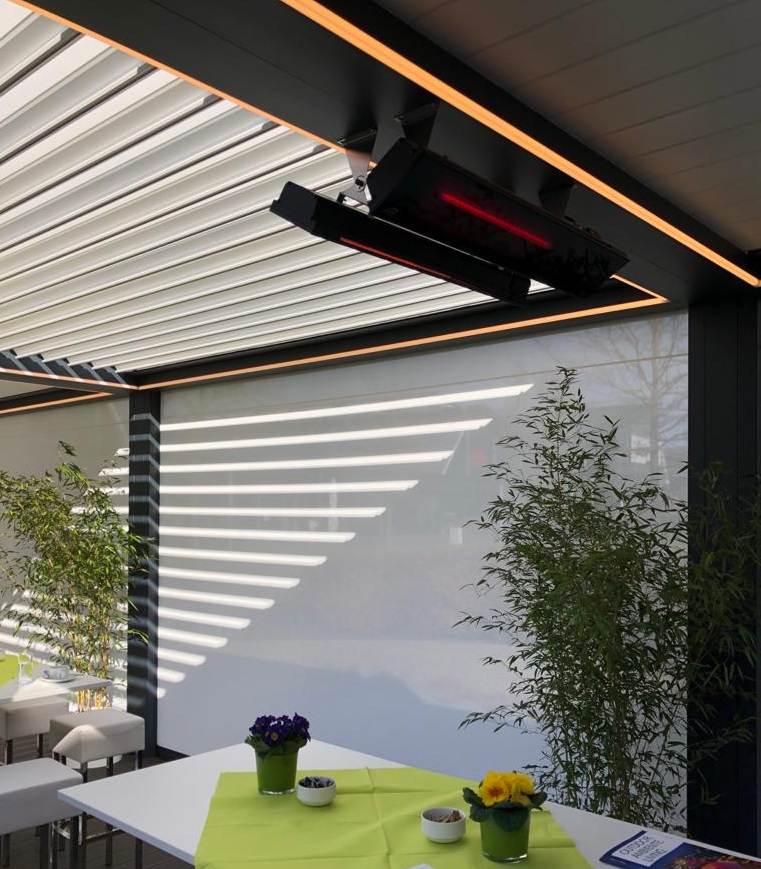 Best-practice RELAX GLASS with io-homecontrol® from HELLA Sonnenschutztechnik GmbH
With the first glass hea­ter series, the short-wave RELAX GLASS (IR‑A) and Schott Nex­tre­ma® Cera­mic Glass, we offer the hig­hest heat out­put for your con­ser­va­to­ry —unmat­ched by com­pa­ra­ble medi­um-wave hea­ters (IR B)!
For the con­ser­va­to­ry, infrared hea­ters are an intel­li­gent alter­na­ti­ve to con­ven­tio­nal hea­ting sys­tems. They pro­vi­de heat with pin­point accu­ra­cy, which is imme­dia­te­ly available wit­hout any need for pre-heating.
But BURDA WTG goes one step fur­ther by pre­sen­ting you with a modu­lar con­cept for other attrac­ti­ve sys­tem solu­ti­ons in the con­ser­va­to­ry: the infrared hea­ters can be com­bi­ned with Blue­tooth spea­k­ers and LED light­ing modu­les in the same design, which can also be inte­gra­ted into the con­ser­va­to­ry as indi­vi­du­al devices. SCHOTT Nex­tre­ma® Cera­mic Glass com­bi­nes super­b­ly with the design modu­les, pro­vi­ding ele­gant opti­cal accents, which also include sta­te-of-the-art technology.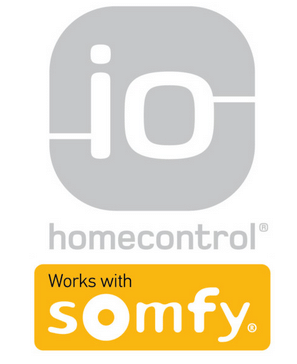 Solar heat in your conservatory with quality heaters from Burda WTG
Whe­ther in the hos­pi­ta­li­ty indus­try or at home: our hea­ters are a prac­ti­cal way to heat con­ser­va­to­ries quick­ly and wit­hout lots of effort. The­re is no need to worry about com­pli­ca­ted moun­ting or exten­si­ve instal­la­ti­on work. The hea­ter is easy to hand­le and can be used fle­xi­bly: whe­ther moun­ted on the wall or the cei­ling, built in flush with the cei­ling or set up as a free-stan­ding unit. Our con­ser­va­to­ry hea­ters are also main­ten­an­ce-free and dura­ble, and you will be impres­sed by the excel­lent mate­ri­als and top qua­li­ty workmanship.
Enjoy your conservatory during the cool season – do not let bad weather stop you
Gene­ral­ly, con­ser­va­to­ries or log­gi­as are not hea­ted – not an issue in sum­mer, but it beco­mes a chall­enge on cold days or cool evenings.
Our hea­ters pro­vi­de the solu­ti­on! They use infrared heat to gene­ra­te cosy warmth in a mat­ter of seconds. They deli­ver the heat pre­cis­e­ly when it is nee­ded and do not gene­ra­te any cos­ts when swit­ched off. Burda's con­ser­va­to­ry infrared hea­ters not only pro­vi­de hea­ting in seconds! They are also silent and com­ple­te­ly odour­less. Infrared hea­ting is invi­si­ble solar radia­ti­on that warms the body from the insi­de. The­r­e­fo­re, no heat ener­gy is lost to the ambi­ent air. And, what is more, it does not kick up any dust, which is a fac­tor that anyo­ne who suf­fers from all­er­gies will appreciate.Radiant heat also has the added bene­fit of not dry­ing the air, as is the case with con­ven­tio­nal con­vec­tion hea­ters. This is not only bene­fi­ci­al to peo­p­le, but also to plants, of which a gre­at varie­ty is often found in a con­ser­va­to­ry, and as most of us know, plants do not like the dry air usual­ly gene­ra­ted by heaters.
Modern infrared conservatory heaters
MODULAR multi-talents for conservatories of any size
BURDA MODULAR offers ver­sa­ti­le com­bi­na­ti­on opti­ons for your con­ser­va­to­ry heater:
Short-wave infrared hea­ters for instant heat in all out­door areas

High-qua­li­ty Blue­tooth spea­k­ers, with gre­at sound quality

Light modu­les with LED spots for effec­ti­ve light­ing accents

With redu­ced red light com­po­nent, for an eye-fri­end­ly atmosphere

Modern designs in a wide ran­ge of colours, various wat­ta­ges and moun­ting options

High qua­li­ty mate­ri­als and work­man­ship, with a guarantee

No dry­ing of the air, which is dama­ging to your plants

A plea­sant indoor atmo­sphe­re wit­hout dirt and dust being stir­red up

Optio­nal con­trols include Blue­tooth, io-home­con­trol®, radio-con­trol or hard wired
A comfortable atmosphere in your conservatory, with heating, sound and light, thanks to our modular system
Sim­ply com­bi­ne the indi­vi­du­al modu­les for a per­fect living ambi­ence, with ins­tance heat, back­ground music and light­ing. You can choo­se from the ele­gant modu­les of the RELAX GLASS series, with a SCHOTT Nex­tre­ma® Cera­mic Glass front and TERM2000 hea­ters, of the hig­hest water-pro­tec­tion class, IP67. The modu­les can be free­ly com­bi­ned or instal­led as stan­da­lo­ne units. Bur­da WTG's MODULAR SYSTEM is the first sys­tem for the out­door indus­try, that can be free­ly com­bi­ned, in any length, colour and func­tion of your choice, and instal­led in are­as of any size. Our com­pa­ny has alre­a­dy won num­e­rous awards for our pro­ducts, inclu­ding the RED DOT DESIGN AWARD 2019 and the GERMAN DESIGN AWARD 2019.
Ins­tead of seve­ral stand-alo­ne hea­ters, the paten­ted BURDA MODULAR SYSTEM enables a seam­less com­bi­na­ti­on of infrared hea­ting ele­ments, Blue­tooth spea­k­ers, LED modu­les, which can be cus­to­mi­sed to meet your indi­vi­du­al hea­ting requi­re­ments and design pre­fe­ren­ces pre­cis­e­ly, and which can also be adapt­ed to match the colour sche­me of the exis­ting decor.

Select individual MODULES or individual combination options for heat, sound and lighting!
xxxx
Our recommendations for conservatory heaters with many extras:
RELAX GLASS — pure elegance
short-wave for the best instant heat,
with Schott Nextrema Ceramic Glass®
A clas­sy hea­ting solu­ti­on for the con­ser­va­to­ry! The RELAX GLASS series is a win­ning pro­po­si­ti­on, thanks to its ele­gant design and the high-qua­li­ty SCHOTT NEXTREMA® Cera­mic Glass front. But the focus is on the heat out­put! This short wave hea­ter is the first and only glass hea­ter with a signi­fi­cant­ly hig­her heat out­put than com­pa­ra­ble medi­um-wave pro­ducts (IRB). The water­pro­of hea­ter, with dif­fe­rent colour opti­ons in terms of the housing and glass fronts, comes in various dif­fe­rent wat­ta­ges, and can eit­her be moun­ted on the wall or the cei­ling. The­re is a frame available, that enables it to be set flush with the cei­ling. The con­ser­va­to­ry hea­ting series can be upgraded to include Blue­tooth spea­k­ers, LED light­ing modu­les and coo­ling nozz­les. Also available as an io hea­ter for Som­fy io-home­con­trol® sys­tems. Can be com­bi­ned with Blue­tooth spea­k­ers and LED lighting!
The paten­ted MODULAR SYSTEM, which has won inter­na­tio­nal awards (incl. RED DOT DESIGN AWARD 2019, GERMAN DESIGN AWARD), offers the per­fect solu­ti­on for lar­ger con­ser­va­to­ries. This wea­ther-pro­of sys­tem solu­ti­on con­sists of indi­vi­du­al modu­les for infrared hea­ting, sound – with Blue­tooth spea­k­ers – and LED light­ing. The modu­les can be free­ly com­bi­ned, in any length, design or colour of your choice. The hea­ters are also available as the stan­da­lo­ne device TERM2000, with the opti­on of Som­fy io-home­con­trol® radio con­trol­led sys­tems or Blue­tooth.
xxxx
xxxx
xxx