About us
Bur­da World­wi­de Tech­no­lo­gies GmbH, Bur­da WTG for short, was foun­ded in 1990 by Jiri Bur­da, today's Mana­ging Direc­tor. In 1997, the com­pa­ny star­ted in spe­cia­li­zing in the import and sale of infrared short­wa­ve tech­no­lo­gy to Euro­pe and Korea. Sin­ce 1999, the com­pa­ny has been a lea­der in the field of cli­ma­te con­trol with sta­te-of-the-art infrared tech­no­lo­gy under the brand name Bur­da Perfectclime®.
Sin­ce the start of pro­duc­tion, Bur­da WTG has alre­a­dy regis­tered its own inter­na­tio­nal patents, which con­ti­nue to set stan­dards today and form the basis for the inter­na­tio­nal suc­cess of the brand. With annu­al sales of more than € 4 mil­li­on and glo­bal pro­duct dis­tri­bu­ti­on in more than 50 count­ries, the com­pa­ny is one of the mar­ket leaders.
"Effi­ci­ent, ener­gy-saving and pre­cis­e­ly crea­ting the per­fect cli­ma­te with intel­li­gent solu­ti­ons for heat, coo­ling and light is our passion"
Jiri Bur­da, Mana­ging Direc­tor, BURDA WTG

Key figures
Com­pa­ny foun­da­ti­on: 1990

Mana­ging direc­tor: Jiri Burda

Com­pa­ny adress: D-65760 Esch­born, Rudolf-Die­sel-Stra­ße 18.

Sin­ce July 2021 a com­pa­ny of the Sys­te­mair AB group
Corporate Philosophy
As a pio­neer in short-wave infrared tech­no­lo­gy, Bur­da WTG com­mands the exper­ti­se and the know-how to con­stant­ly deve­lop that tech­no­lo­gy fur­ther and to offer a one-stop ser­vice in hea­ting-, coo­ling- and light­ing-sys­tems. All Bur­da pro­ducts share four cen­tral values: inno­va­ti­on, qua­li­ty, design and dura­bi­li­ty. Bur­da WTG is a very dyna­mic com­pa­ny with only short inter­vals bet­ween new inno­va­tions. The goal is to gra­du­al­ly maxi­mi­ze the per­for­mance of the hea­ting and coo­ling devices. That is the company´s mea­su­re for suc­cess which is being pro­mo­ted day to day around the globe.
INTELLIGENT SOLUTIONS
Our inno­va­ti­ve and num­e­rous pro­ducts are pro­of of our intel­li­gent solu­ti­ons. To crea­te instanta­neous­ly pro­du­ce hea­ting or coo­ling in an ener­gy-effi­ci­ent and cost-effec­ti­ve man­ner is our pas­si­on. Our colour adapt­ed light- and coo­ling sys­tems, stand-alo­ne or in addi­ti­on to other sys­tems, gua­ran­tee a feel-good atmo­sphe­re. This pro­ofs our abili­ty to sup­p­ly a "One-stop ser­vice". Opti­mal­ly adapt­ed to the needs of man and envi­ron­ment, the poten­ti­al for appli­ca­ti­on is almost limitless.
INTELLIGENT ANSWERS
We lis­ten, dis­cern and under­stand the needs of our cus­to­mers. Tog­e­ther we find the right ans­wers. It is only natu­ral for us to act respectful­ly, pas­sio­na­te­ly, fle­xi­bly, relia­ble and in their best interest.
INTELLIGENT CRAFT
We are able to achie­ve the hig­hest pos­si­ble qua­li­ty, func­tion­a­li­ty and effi­ci­en­cy, as well as the best design by app­ly­ing the hig­hest pos­si­ble stan­dards during the pro­duc­tion pro­cess and using high-qua­li­ty mate­ri­als for our part­ly hand­craf­ted pro­ducts. Only by doing that can we set the bench­mark on a glo­bal level.
Milestones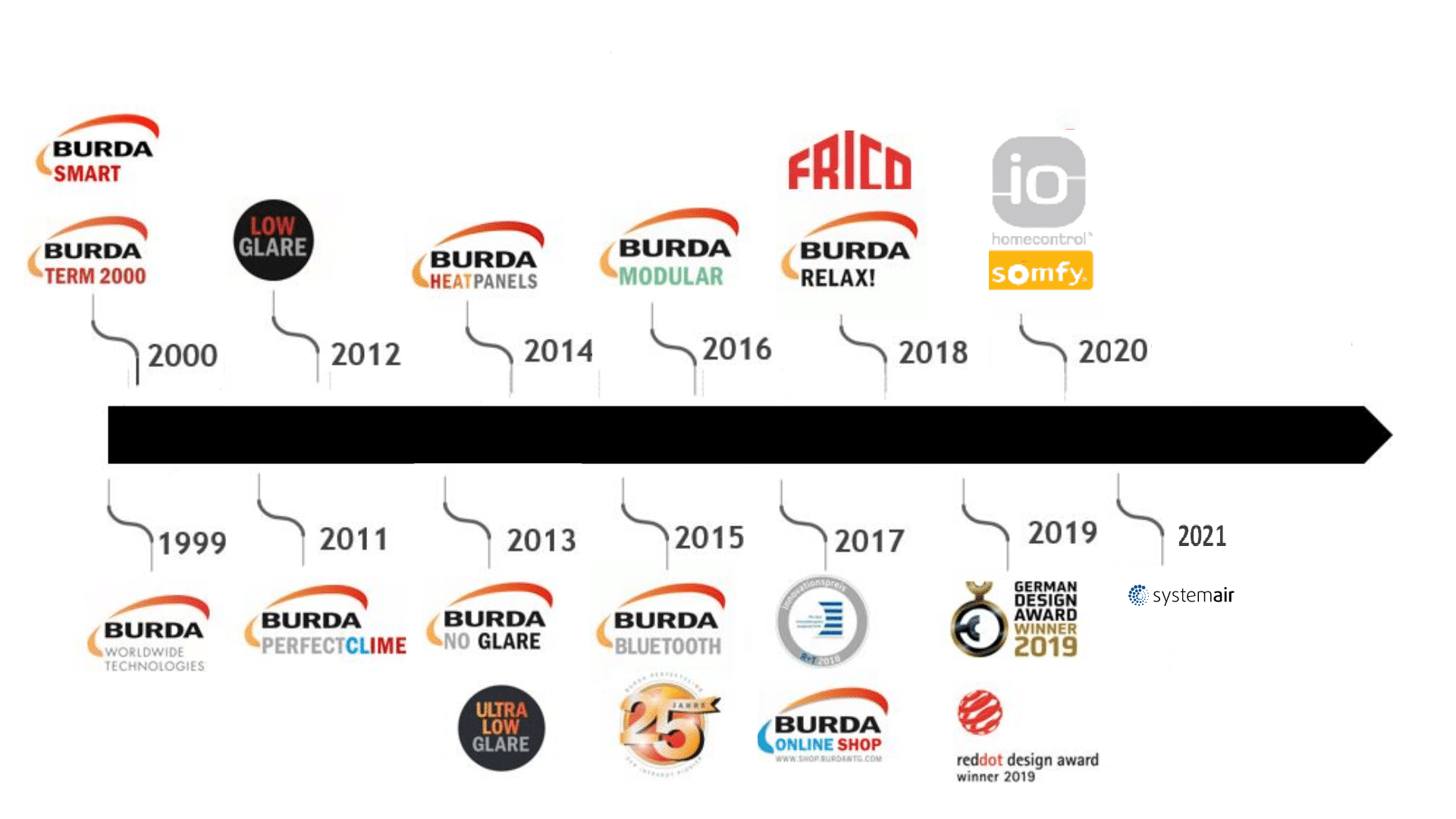 BURDA WTG starts the hea­ter sea­son 2020 with a new smart home solu­ti­on for infrared hea­ters with Som­fy io. From now on, hea­ters from the RELAX GLASS and TERM2000 series can be con­trol­led with the lea­ding radio con­trol sys­tem io-home­con­trol® and Som­fy remo­te controls.
Pro­duct launch of the new RELAX GLASS COMPACT WiFi radi­ant hea­ter, which com­ple­ments the suc­cessful RELAX GLASS series with a com­pact, 2000 watt short­wa­ve radi­ant heater.
In July 2021, BURDA WTG beco­mes a whol­ly-owned sub­si­dia­ry of the Swe­dish group Sys­te­mair AB (NASDAQ OMX Stock­holm: SYSR). JIri Bur­da, foun­der of Bur­da WTG, remains as mana­ging director.
The MODULAR SYSTEM recei­ves important awards with the inter­na­tio­nal­ly known RED DOT DESIGN AWARD 2019 and the GERMAN DESIGN AWARD 2019.
The MODULAR SYSTEM also recei­ves the BEST of BEST Inno­vAc­tion Award at the Asi­an fair R+T ASIA 2019.
The Swe­dish com­pa­ny FRICO AB is taking a 49.9% sta­ke in Bur­da WTG and is paving the way for fur­ther internationalization.
Bur­da WTG laun­ches two new design infrared hea­ter series RELAX GLASS (short­wa­ve emit­ter with Schott Nex­tre­ma® cera­mic-glass) and RELAX DARK (dark emit­ter with long wave wit­hout light emission).
Wins the MODULAR SYSTEM of Bur­da WTG the pres­ti­gious INNOVATION PRIZE R+T 2018, award­ed at the world's lea­ding trade fair R+T in Stutt­gart in the cate­go­ry spe­cial solu­ti­ons for tech­ni­cal pro­gress, excel­lent design and exem­pla­ry innovation.
The new Bur­da online shop for retail­ers and end cus­to­mers goes online under shop.burdawtg.com.
Patent grant for the first water­pro­of TERM2000 MODULAR SYSTEM with indi­vi­du­al­ly com­bi­nable hea­ting, light and coo­ling ele­ments from the TERM2000 series.
Bur­da WTG cele­bra­tes 25th anni­ver­sa­ry with the launch of the first gene­ra­ti­on of BLUETOOTH infrared heaters.
Bur­da WTG expands the pro­duct port­fo­lio with infrared hea­ting pla­tes under the brand name HEATPANELS. The com­pa­ny thus covers the gro­wing demand for sur­face hea­ting ele­ments, which are offe­red in the form of mir­ror, pic­tu­re or clas­sic heat panels.
Deve­lo­p­ment and mar­ket launch of the first "NO GLARE" dark hea­ters (TERM2000 NO Gla­re) with infrared long-wave for inte­ri­ors. The new dark radia­tors pro­vi­de 100 per­cent heat with 100 per­cent light reduction.
The first ULTRA LOW GLARE radi­ant hea­ters from the TERM2000 series inspi­re the mar­ket with a new tube gene­ra­ti­on, which enables up to 80 per­cent red light reduction.
Pre­sen­ta­ti­on of the first "LOW GLARE" hea­ter gene­ra­ti­on from the SMART series with signi­fi­cant­ly redu­ced red light emis­si­on through a new tube technology.
Mar­ket launch of the paten­ted PERFECTLIME® hea­ting and coo­ling devices, which cau­se a stir both natio­nal­ly and inter­na­tio­nal­ly with pio­nee­ring heat and coo­ling combinations.
Mar­ket launch of the first water­pro­of TERM2000 and SMART infrared radi­ant hea­ters, some of which are pro­tec­ted by inter­na­tio­nal patents, which are achie­ving gre­at sales suc­ces­ses with their light and heat combinations.
Bur­da WTG pres­ents the first self-deve­lo­ped infrared short­wa­ve devices on the inter­na­tio­nal market.