CLASSIC HEAT IP20 – heatpanel for walls and ceilings

Economic infrared heat panel with a 5-year manufacturer's guarantee for wall and ceiling mounting
The ver­sa­ti­le model from our Heat­pa­nel coll­ec­tion com­bi­nes superb value for money with gre­at hea­ting per­for­mance. The Clas­sic Heat's spe­ci­al­ly coa­ted sur­face ensu­res excep­tio­nal radi­ant warmth. The hea­ting pla­te fea­tures a par­ti­cu­lar­ly robust and dura­ble hea­ting ele­ment housed in a strong, stur­dy 16mm-wide alu­mi­ni­um and steel housing, pro­vi­ding full-sur­face hea­ting. The light­ly struc­tu­red, white pain­ted sur­face of the infrared hea­ting ele­ment is high­ly scratch resistant and won't yel­low. The new fit­ting enables an even fas­ter, easier and secu­re instal­la­ti­on on the wall and under ceilings.
With its easy-care sur­face, the Clas­sic Heat fits dis­creet­ly into your exis­ting wall or cei­ling set up. The spe­cial inter­nal reflec­tor sys­tem not only ensu­res that heat is even­ly dis­tri­bu­ted, it also increa­ses effec­ti­ve­ness by around 15 to 20 per­cent com­pared with com­pe­ti­tor pro­ducts. An addi­tio­nal distin­gu­is­hing fea­ture is the noti­ce­ab­ly lon­ger dura­bi­li­ty of the hea­ting ele­ment. Plea­se note: The heat panel is not waterproof!
Deli­very includes moun­tings and fixings, plus detail­ed ins­truc­tions for wall or cei­ling instal­la­ti­on. Two built-in tem­pe­ra­tu­re moni­tors pro­vi­de pro­tec­tion from over­hea­ting, tur­ning the unit off imme­dia­te­ly if the hea­ting ele­ment beco­mes too hot (e.g. if it gets cover­ed acci­den­tal­ly). Once it has coo­led, the infrared hea­ter auto­ma­ti­cal­ly turns its­elf back on.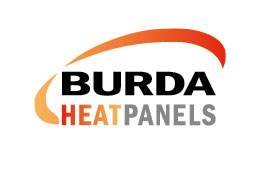 Smooth white pain­ted surface

15mm thick

Frame­l­ess

Safe­ty shut-off pre­vents overheating

Pro­tec­tion class IP20, not waterproof

Includes 1.9m cable and plug

Fit­tings supplied

5-year gua­ran­tee
Please note!
EU Ecodesign 2015/1188
The instal­la­ti­on and use of the Heat­pa­nels from 1.1.2018 is only per­mit­ted in con­nec­tion with exter­nal ther­mo­stats which ful­fill the fol­lo­wing functions:
Elec­tro­nic room tem­pe­ra­tu­re con­trol and week­day control
Adap­ti­ve hea­ting control
The­se requi­re­ments are met i.e. with our Ther­mo­stats: BHCI868, BHCINSTAT+3R, BHCFIT3R. Fail­ure to com­ply with the­se requi­re­ments will result in the loss of the CE mark.
| Item no. | Sur­face | Dimen­si­on (H*W*D) | Out­put | Weight | Heata­ble area |
| --- | --- | --- | --- | --- | --- |
| BHPCLH4060300 | white (RAL9016), smooth | 40 x 60 x 1,6 cm | 300 Watt | 4 kg | ca. 8 m² |
| BHPCLH6262400 | white (RAL9016), smooth | 62 x 62 x 1,6 cm | 400 Watt | 4 kg | ca. 10 m² |
| BHPCLH6060400 | white (RAL9016), smooth | 60 x 60 x 1.6 cm | 400 Watt | 4 kg | ca. 10 m² |
| BHPCLH6090600 | white (RAL9016), smooth | 60 x 90 x 1,6 cm | 600 Watt | 8 kg | ca. 15 m² |
| BHPCLH60120900 | weiss (RAL9016), smooth | 60 x 120 x 1,6 cm | 900 Watt | 9 kg | ca. 18 m² |