CLASSIC HEAT IP20 – heatpanel for walls and ceilings
Economic infrared heat panel for wall and ceiling mounting
The versatile model from our Heatpanel collection combines superb value for money with great heating performance. The Classic Heat's specially coated surface ensures exceptional radiant warmth. The heating plate features a particularly robust and durable heating element housed in a strong, sturdy 16mm-wide aluminium and steel housing, providing full-surface heating. The lightly structured, white painted surface of the infrared heating element is highly scratch resistant and won't yellow. The new fitting enables an even faster, easier and secure installation on the wall and under ceilings.
With its easy-care surface, the Classic Heat fits discreetly into your existing wall or ceiling set up. The special internal reflector system not only ensures that heat is evenly distributed, it also increases effectiveness by around 15 to 20 percent compared with competitor products. An additional distinguishing feature is the noticeably longer durability of the heating element. Please note: The heat panel is not waterproof!
Delivery includes mountings and fixings, plus detailed instructions for wall or ceiling installation. Two built-in temperature monitors provide protection from overheating, turning the unit off immediately if the heating element becomes too hot (e.g. if it gets covered accidentally). Once it has cooled, the infrared heater automatically turns itself back on.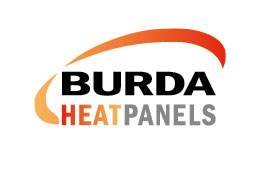 Smooth white painted surface

15mm thick

Frameless

Safety shut-off prevents overheating

Protection class IP20, not waterproof

Includes 1.9m cable and plug

Fittings supplied
Please note!
EU Ecodesign 2015/1188
The installation and use of the Heatpanels from 1.1.2018 is only permitted in connection with external thermostats which fulfill the following functions:
 Electronic room temperature control and weekday control
 Adaptive heating control
These requirements are met i.e. with our Thermostats: BHCI868, BHCINSTAT+3R, BHCFIT3R. Failure to comply with these requirements will result in the loss of the CE mark.
| Item no. | Surface | Dimension (H*W*D) | Output | Weight | Heatable area |
| --- | --- | --- | --- | --- | --- |
| BHPCLH4060300 | white (RAL9016), smooth | 40 x 60 x 1,6 cm | 300 Watt | 4 kg | ca. 8 m² |
| BHPCLH6262400 | white (RAL9016), smooth | 62 x 62 x 1,6 cm | 400 Watt | 4 kg | ca. 10 m² |
| BHPCLH6060400 | white (RAL9016), smooth | 60 x 60 x 1.6 cm | 400 Watt | 4 kg | ca. 10 m² |
| BHPCLH6090600 | white (RAL9016), smooth | 60 x 90 x 1,6 cm | 600 Watt | 8 kg | ca. 15 m² |
| BHPCLH60120900 | weiss (RAL9016), smooth | 60 x 120 x 1,6 cm | 900 Watt | 9 kg | ca. 18 m² |