Infrared bathroom heaters
Attractive heating concepts for your bathroom with wall and ceiling heaters and mirror heat panels
When it comes to bathroom hea­ting, most peop­le do not com­pro­mi­se on warm­th: it should be com­for­ta­b­ly warm in the morning and in the evening hours or whenever nee­ded! BURDA panel hea­ters pro­vi­de smooth heat whenever and whe­re­ver it matters.

Infra­red heat panels gene­ra­te so-cal­led radi­ant heat, which ari­ses when the device is con­nec­ted to electri­ci­ty. BURDA infa­red heat panels are so-cal­led long wave hea­ters with IR-C radia­ti­on. Here, a lar­ge part of the gene­ra­ted heat is released to the cir­cu­la­ting air, so that con­vec­tion heat immer­ses the bath in gent­le warmth.
HEATPANELS are par­ti­cu­lar­ly sui­ta­ble in bathrooms or other sani­ta­ry faci­li­ties whe­re no cen­tral heat sup­ply is pos­si­ble. Hea­ting pla­tes can also be instal­led ener­gy-saving as addi­tio­nal hea­ting in the bathroom for short-term brid­ging of cold peri­ods. The space saving design and tar­ge­ted use of ener­gy make BURDA infra­red HEATPANELS an effi­ci­ent source of heat in the bathroom at home, in the hotel, holi­day home – sim­ply whe­re­ver eco­no­mic and effec­ti­ve hea­ting solu­ti­ons for the bathroom are required.
Infra­red hea­ters are a spe­cial form of electric bathroom hea­ting, which are powe­red by electri­ci­ty. BURDA offers the fol­lowing vari­ants for bathroom heating:
Hea­ting panels, HEATPANELS, for wall mounting.
Tailored heating solutions for bathrooms of all sizes!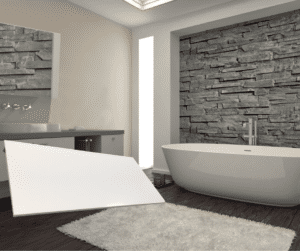 Heat panel wiht 500 watt, white sur­face and inte­gra­ted ON/OFF switch for cozy warm­th in the bathroom. The infra­red hea­ting panel is water­pro­of, splash-guard IP54 and sui­ta­ble for wall moun­ting in all sani­ta­ry and wet areas.
EU Ecodesign 2015/1188
The installation and use of the Heatpanels from 1.1.2018 is only permitted in connection with external thermostats which fulfill the following functions:
++ Electronic room temperature control and weekday control
++ Adaptive heating control
These requirements are met i.e. with our Thermostats: BHCI868, BHCINSTAT+3R, BHCFIT3R. Failure to comply with these requirements will result in the loss of the CE mark .