Infrared bathroom heaters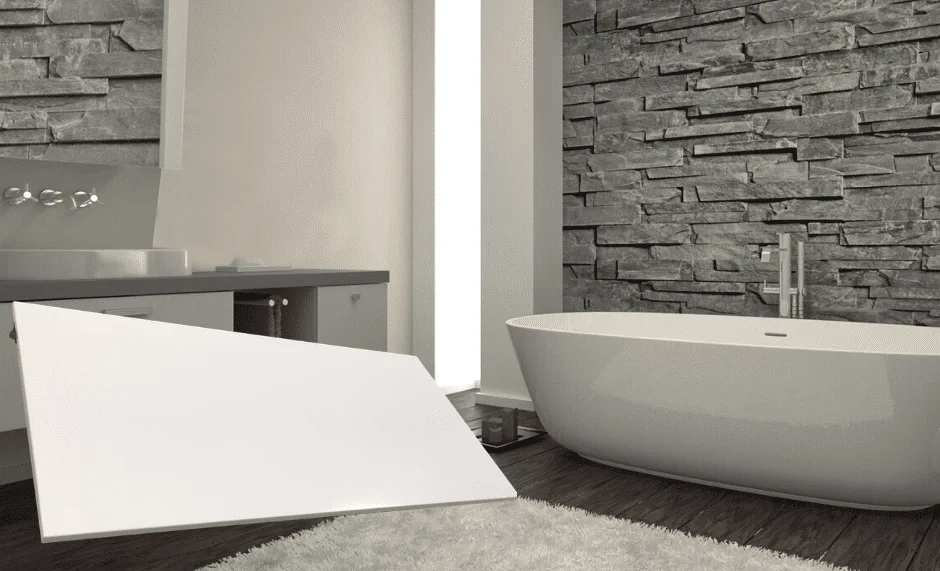 Attractive heating concepts for your bathroom with BURDA HEATPANELS
When it comes to bathroom heating, most people do not compromise on warmth: it should be comfortably warm in the morning and in the evening hours or whenever needed! BURDA  panel heaters provide smooth heat whenever and wherever it matters.

HEATPANEL BASIC HEAT IP54 with splash-guard
Infrared heat panels generate  radiant heat, which arises when the device is connected to electricity. BURDA infared heat panels are  wave heaters with IR-C radiation. A large part of the generated heat is released to the circulating air, so that convection heat immerses the bathroom in gentle warmth.

HEATPANELS are particularly suitable in bathrooms or other sanitary facilities where no central heat supply is possible. Heating plates can also be installed energy-saving as additional heating in the bathroom for short-term bridging of cold periods. The space saving design and targeted use of energy make BURDA infrared HEATPANELS an efficient source of heat in the bathroom at home, in the hotel, holiday home  – simply wherever economic and effective heating solutions for the bathroom are required.

Heat panel wiht 500 watt, white surface and integrated ON/OFF switch for cozy warmth in the bathroom. The infrared heating panel is waterproof, splash-guard IP54 and suitable for wall mounting. With an additional frame, you can install the heating plate under ceilings as well.
EU Ecodesign 2015/1188
The installation and use of the Heatpanels from 1.1.2018 is only permitted in connection with external thermostats which fulfill the following functions:
++ Electronic room temperature control and weekday control
++ Adaptive heating control
These requirements are met i.e. with our Thermostats: BHCI868, BHCINSTAT+3R, BHCFIT3R. Failure to comply with these requirements will result in the loss of the CE mark .