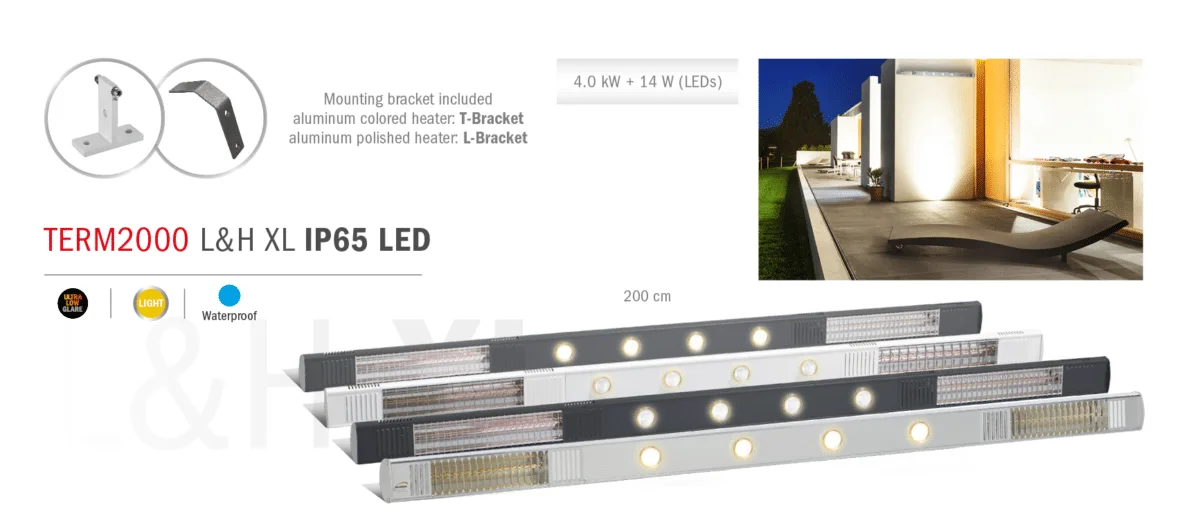 The first and only infrared radiant heaters with water protection up to IP67!
The TERM2000 heater series reflects the full innovative power of BURDA PerfectClime. As a leading manufacturer of infrared radiant heaters, we offer – partly patented – solutions for uncomplicated, energy-saving and user-friendly heating solutions for outdoor areas in any size.
TERM2000 infrared heaters are equipped with a specially developed and manufactured ULTRA LOW GLARE infrared gold tube which guarantees a very long service life of up to 5,000 hours. For all outdoor applications, we present waterproof devices in protection classes IP44, IP65 and IP67.

The advantages of the heater series TERM2000 at a glance:
heating without lead time within seconds

different power levels, sizes and optionally with LED light for precise use in all outdoor areas

intelligent operation via Bluetooth or additional cable/radio control

flexible use with various mounting options for setting up, hanging, and for wall or ceiling mounting
timeless, slim heater design in a wide range of colors and sizes

odor-neutral, low-noise, environmentally friendly operation with emission values ​​close to zero

waterproof casing in various protection classes IP44/65/67

LOW GLARE and ULTRA LOW GLARE heating tubes with red light reduction up to 80%  for instant heat in a pleasant candlelit atmosphere