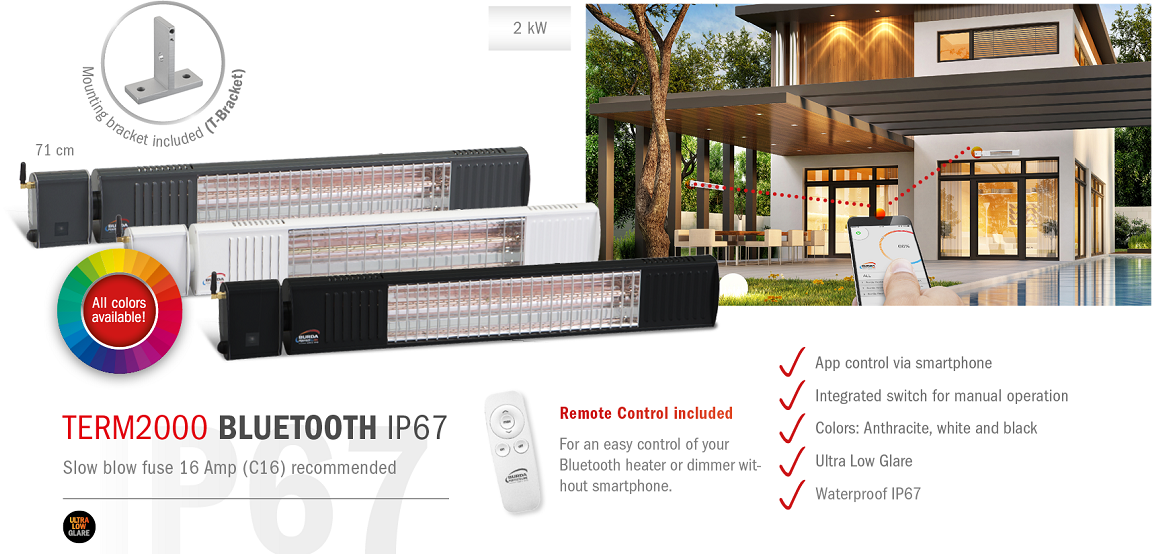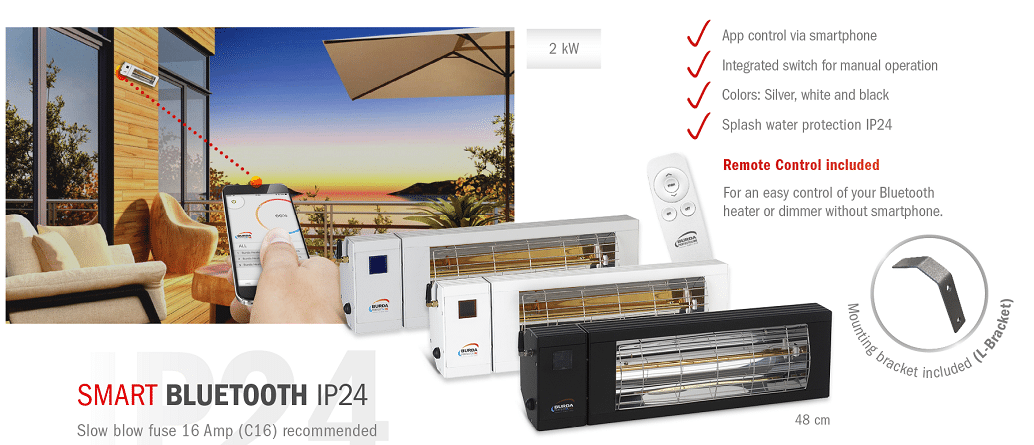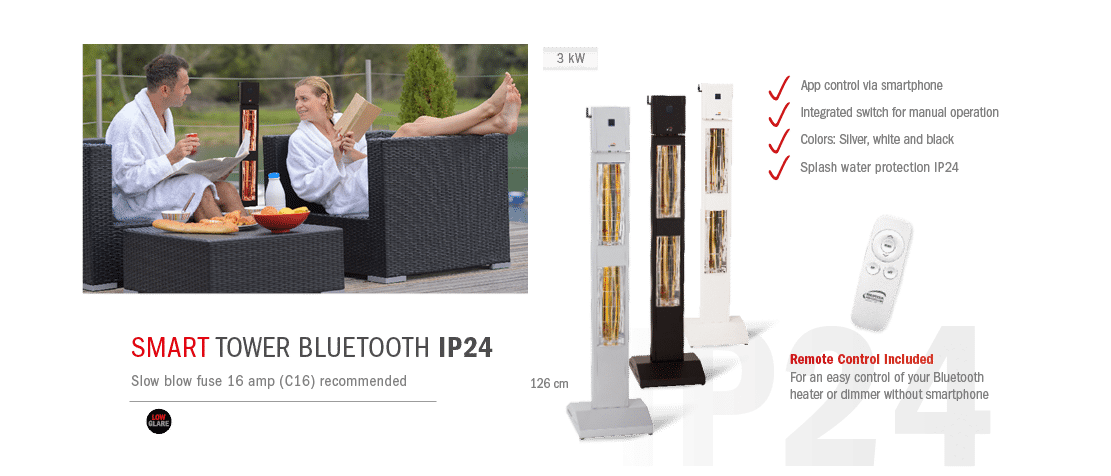 BURDA BLUETOOTH – the new heater generation
Infrared radiant heater series with wireless control via BURDA APP
BURDA Bluetooth heaters are based on the tried-and-tested heaters of the TERM2000 and SMART series for all outdoor areas. Equipped with a Bluetooth interface, the new heater generation can be controlled comfortably and wirelessly with your smartphone or tablet. The accompanying BURDA APP is compatible with all iOS and Android end devices, and is available as a free Download. Besides wireless control using the smartphone app, the Bluetooth heaters can be operated with the proven infrared remote control (range of about  6 meters) as usual, or manually, with an integrated switch on the device. The infrared remote control contained in the set is in Unicode and compatible with all BURDA Bluetooth heaters. Using the device's built-in switch, the heaters can be turned on and off or dimmed by simply pressing the controls repeatedly.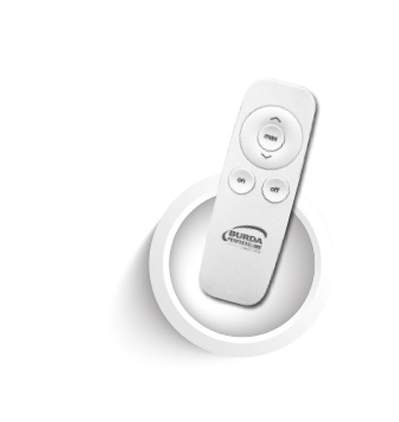 Infrared remote control
The infrared remote control device contained in the set is unicoded and compatible with all Bluetooth infrared heaters. The IR remote control controls one or more heaters within visual range and within a radius of six to seven meters.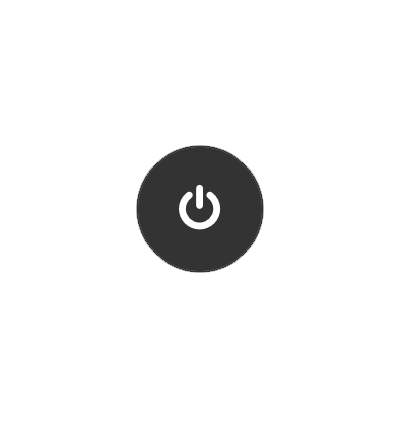 Manual operation with switch
Manual operation of the switch
The heater can be switched on, dimmed and switched off by pressing the built-in switch on the device once or repeatedly.
All

BURDA

Bluetooth heaters can be individually controlled or turned on and off via the app, from only one interface (smartphone or tablet). You can programme up to eight Burda heaters in the app controls, name them individually for practicality, and manage them either individually or simultaneously.

With the

BURDA

APP

you can regulate up to eight infrared heaters individually in a range of sight up to 15 metres.

The heater's tilt sensitivity can be set via software. It determines when the heater should turn itself off, due to safety reasons, for example, if it wobbles or falls when something bumps against it.
By means of the app's

TIMER

function, you can programme all your infrared heaters to switch off easily and comfortably at a desired time.

The BURDA APP is compatible with all iOS and Android end devices.

An additional remote control is included in the set

Device with integrated switch
SMART TOWER BLUETOOTH IP24
Powerful, fully waterproof Bluetooth infrared radiant heater with 2000 watts in an elegant, slim design. Ideal for wall and ceiling mounting even in unprotected outdoor areas.
Elegant Bluetooth heater with splash water protection and two individually adjustable heating tubes for reliable instant heat on the terrace, the balcony and all protected outdoor areas.
Compact infrared heater with Bluetooth interface in white, black or silver with splash protection for instant heat in all protected outdoor areas.
Protection: IP67, fully waterproof

Color: polished aluminum, white, black, anthracite. Other RAL colors on request (surcharge)

Dimensions (wxhxd): 71 x 10 x 12,5 cm

Assembly: wall and ceiling

Connection: 1/N/PE ~ 230 V 50 Hz, schuko plug

PLEASE NOTE
Up from 2000 watts we recommend to use 16A slow blow fuses (C16)!

WEEE-Reg.-Nr.:

DE50492100
Protection: splash guard IP24

Performance: 2 x 1500 watt

Color: white, black and silver

Dimensions (wxhxd): 29 x 126 x 32 cm

Assembly: standing device
–

Connection: 1/N/PE ~ 230 V 50 Hz, schuko plug

PLEASE NOTE
Up from 2000 watts we recommend to use 16A slow blow fuses (C16)!

WEEE-Reg.-Nr.:

DE50492100
Protection: splash guard IP24

Color: white, black and silver

Dimensions (wxhxd): 48 x 15,5 x 9,5 cm

Assembly: wall and ceiling
–

Connection: 1/N/PE ~ 230 V 50 Hz, schuko plug

PLEASE NOTE
Up from 2000 watts we recommend to use 16A slow blow fuses (C16)!

WEEE-Reg.-Nr.:

DE50492100