Infrared heaters: as good as heat from the sun!
BURDA infrared radiant heaters and -systems offer all climate solutions from one single source
As a pio­neer in the field of short-wave infrared tech­no­lo­gy, BURDA WTG has the bene­fit of over 25 years of pro­duc­tion expe­ri­ence. Sin­ce the ear­ly days, our hea­ters have deve­lo­ped into very effi­ci­ent high-tech sys­tems, used in prac­ti­cal­ly all con­ceiva­ble are­as. Indoors or out­doors, for house­hold, com­mer­cial, indus­try and public envi­ron­ments with per­ma­nent or tem­po­ra­ry instal­la­ti­ons, from sin­gle units up to mul­ti­ple instal­la­ti­ons. With offer opti­ons with light­ing , heat con­trol with blue­tooth and our uni­que and paten­ted hea­ting & coo­ling sys­tems for vir­tual­ly all are­as and environments.
BURDA infrared heater series:
RELAX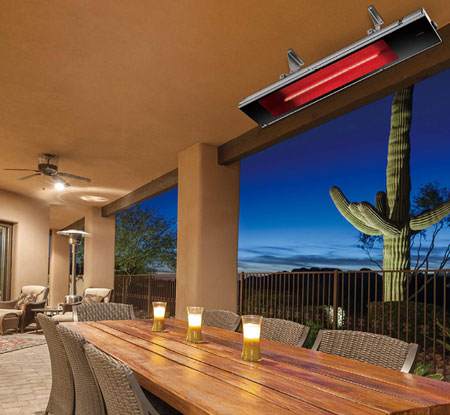 The first water­pro­of short-wave hea­ter for out­doors with Schott Nex­tre­ma® cera­mic-glass. The hea­ter series is available in dif­fe­rent power ran­ges and colours for wall and cei­ling moun­ting as well as flush-moun­ted cei­ling instal­la­ti­ons with frame. Also available with Som­fy io-home­con­trol® function!
THe RELAX! hea­ter series also includes long-wave car­bon hea­ters RELAX DARK wit­hout any light emis­si­on at all.
TERM2000
Ele­gant hea­ter series with the hig­hest water pro­tec­tion class up to IP67 in a slim design for all out­door are­as. Optin­al with Blue­tooth inter­face and available with inte­gra­ted LED spots LIGHT & HEAT.
SMART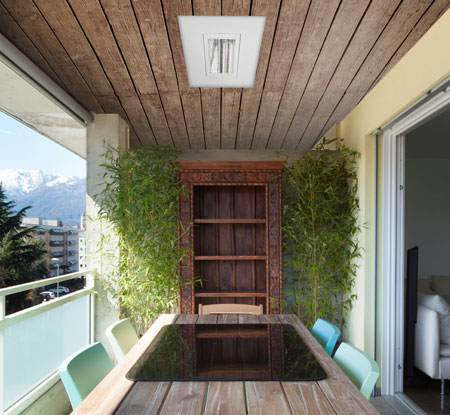 Com­pact hea­ter series with infrared short-wave and splash guard for inten­se instant heat in all shel­te­red out­door are­as. For moun­ting on the wall, under the cei­ling or as flush-moun­ted cei­ling hea­ter in a frame. Optio­nal­ly available with Blue­tooth function.
MODULAR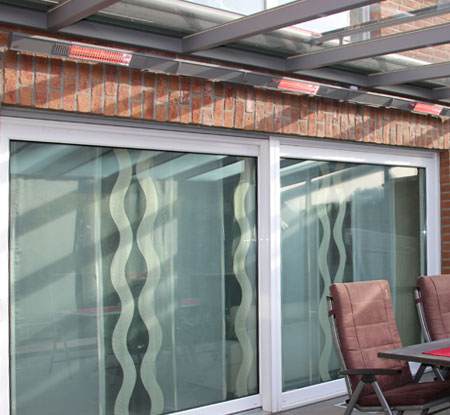 Award-win­ning solu­ti­on with hea­ting, coo­ling and light modu­les in any desi­red length, fea­tures and colour for out­door are­as of all sizes. Award­ed with inter­na­tio­nal design pri­zes 2018/19 such as the RED DOT DESIGN AWARD and the GERMAN DESIGN AWARD.
High-per­for­mance infrared hea­ters with short-, medi­um- and long wave in a wide ran­ge of power and colors

Uni­que patio hea­ter TERM2000 with the hig­hest water pro­tec­tion class IP67

Paten­ted hea­ting and coo­ling devices PERFECTCLIME® with eva­po­ra­ti­ve coo­ling for hot days

Infrared hea­ters with LED spots LIGHT & HEAT for atmo­sphe­ric lighting
Award-win­ning solu­ti­ons BURDA MODULAR for com­bi­ned instant heat with light and cooling

Available as sin­gle or mul­ti­ple device

For wall and cei­ling moun­ting, as flush-moun­ted cei­ling instal­la­ti­on or stan­din­ge hea­ter device

Equip­ped with tubes which emit up to 80 per­cent less red light
What is infrared?
Infrared radia­ti­on is a sub-area of the light spec­trum gene­ra­ted by the sun. This type of light, howe­ver, is invi­si­ble to the human eye; it only ser­ves to radia­te heat. This means that infrared rays, respon­si­ble for the human sen­sa­ti­on of heat, are posi­ti­ve rays and can­not be com­pared with UV or micro­wa­ve radia­ti­on or with X-rays.
Owing to their vary­ing wave­lengths and resul­ting mode of action, a distinc­tion is drawn bet­ween three types of infrared rays:
Infrared-A, short wave
780 – 1.400 nm (0,8 – 1,4 µ) 3620 K – 2070 K
Infrared-B, medi­um-wave
1.400 – 3.000 nm (1,4 – 3 µ) 2070 K – 965 K
Infrared-C, long-wave
3.000 – 10.000 nm (3 – 10 µ) 965 K – 290 K
Advantages of infrared heating!
Instant heat: 90% of the heat is available in short wave (IRA) within one second. Medi­um and long wave emit­ters (IRB and IRC) requi­re a lead time of up to a maxi­mum of 20 minutes.

Effec­ti­ve: 92% radia­ti­on effi­ci­en­cy! Over 85% of the ener­gy is con­ver­ted to heat. Medi­um and long wave radia­tors release some of the heat ener­gy to the cir­cu­la­ting air (con­vec­tion heat)

Low bud­get: free of maintenance

Pre­cise: Heat can be direc­ted in any direction

Ver­sa­ti­le: Even par­ti­al are­as can be effec­tively heated

Per­for­mance: Wide power ran­ge up to 18 000 watt

Cus­to­mi­sed: Inten­si­ty adjus­ta­ble from 0 – 100 %

Relia­ble: Life span of tubes up to 5,000 h – even with con­stant swit­ching on and off

Secu­re: Shock­pro­of due to use of quartz tubes

Envi­ro­m­ent: Hard­ly any emis­si­ons and no oxy­gen consumption

Clean: No pol­lu­ti­on from blasts of air or dust