Infrared heaters: as good as heat from the sun!
BURDA infrared radiant heaters and -systems offer all climate solutions from one single source
As a pioneer in the field of short-wave infrared technology, BURDA WTG has the benefit of over 25 years of production experience. Since the early days, our heaters have developed into very efficient high-tech systems, used in practically all conceivable areas. Indoors or outdoors, for household, commercial, industry and public environments with permanent or temporary installations, from single units up to multiple installations. With offer options with lighting , heat control with bluetooth and our unique and patented heating & cooling systems for virtually all areas and environments.
BURDA infrared heater series:
RELAX GLASS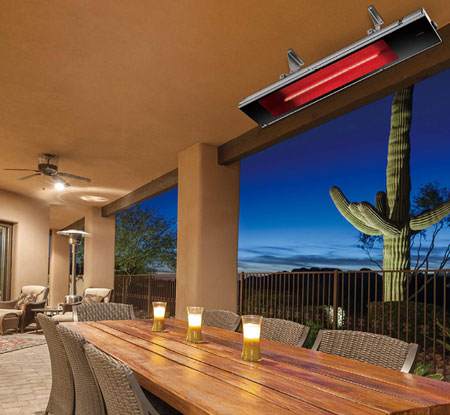 The first waterproof short-wave heater for outdoors with Schott Nextrema® ceramic-glass. The heater series is available in different power ranges and colours for wall and ceiling mounting as well as flush-mounted ceiling installations with frame. Also available with Somfy io-homecontrol® function!
THe RELAX! heater series also includes long-wave carbon heaters RELAX DARK without any light emission at all.
TERM2000
Elegant heater series with the highest water protection class up to IP67 in a slim design for all outdoor areas. Optinal with Bluetooth interface and available with integrated LED spots LIGHT & HEAT. 
SMART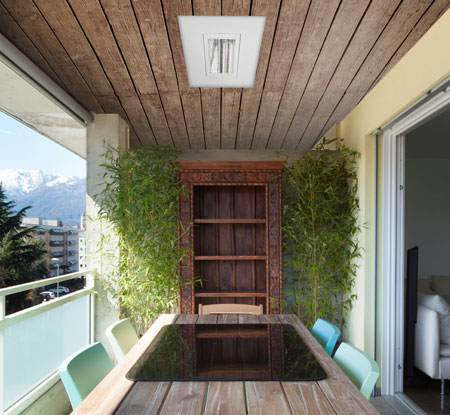 Compact heater series with infrared short-wave and splash guard for intense instant heat in all sheltered outdoor areas. For mounting on the wall, under the ceiling or as flush-mounted ceiling heater in a frame. Optionally available with Bluetooth function.
MODULAR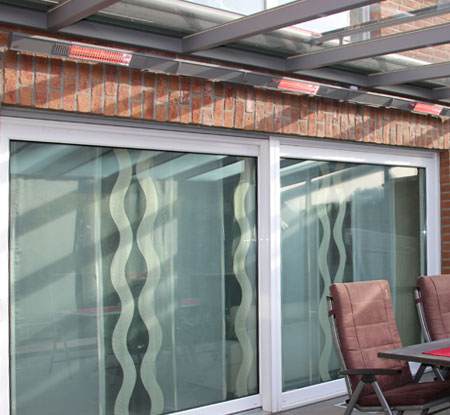 Award-winning solution with heating, cooling and light modules in any desired length, features and colour for outdoor areas of all sizes. Awarded with international design prizes 2018/19 such as the RED DOT DESIGN AWARD and the GERMAN DESIGN AWARD.
High-performance infrared heaters with short-, medium- and long wave in a wide range of power and colors

Unique patio heater TERM2000 with the highest water protection class IP67

Patented heating and cooling devices PERFECTCLIME® with evaporative cooling for hot days

Infrared heaters with LED spots LIGHT & HEAT for atmospheric lighting
Award-winning solutions BURDA MODULAR for combined instant heat with light and cooling

Available as single or multiple device

For wall and ceiling mounting, as flush-mounted ceiling installation or standinge heater device

Equipped with tubes which emit up to 80 percent less red light
What is infrared?
Infrared radiation is a sub-area of the light spectrum generated by the sun. This type of light, however, is invisible to the human eye; it only serves to radiate heat. This means that infrared rays, responsible for the human sensation of heat, are positive rays and cannot be compared with UV or microwave radiation or with X-rays.
Owing to their varying wavelengths and resulting mode of action, a distinction is drawn between three types of infrared rays:
Infrared-A, short wave
780 – 1.400 nm (0,8 – 1,4 µ) 3620 K – 2070 K
Infrared-B, medium-wave
1.400 – 3.000 nm (1,4 – 3 µ) 2070 K – 965 K
Infrared-C, long-wave
3.000 – 10.000 nm (3 – 10 µ) 965 K – 290 K
Advantages of infrared heating!
Instant heat: 90% of the heat is available in short wave (IRA) within one second. Medium and long wave emitters (IRB and IRC) require a lead time of up to a maximum of 20 minutes.

Effective: 92% radiation efficiency! Over 85% of the energy is converted to heat. Medium and long wave radiators release some of the heat energy to the circulating air (convection heat)

Low budget: free of maintenance

Precise: Heat can be directed in any direction

Versatile: Even partial areas can be effectively heated

Performance: Wide power range up to 18 000 watt

Customised: Intensity adjustable from 0 – 100 %

Reliable: Life span of tubes up to 5,000 h – even with constant switching on and off

Secure: Shockproof due to use of quartz tubes

Enviroment:  Hardly any emissions and no oxygen consumption

Clean: No pollution from blasts of air or dust