SMART infrared heaters
Compact heater series with splash-guard and light-reducing LOW GLARE technology
The com­pact and uncom­pli­ca­ted infra­red hea­ters SMART from BURDA Per­fect­Cli­me are a good choice, whenever and wehre­ver instant hea­ting is requi­red. The devices are pro­tec­ted against splash water and can be instal­led in any shel­te­red out­door area on the wall, under the cei­ling, on a tri­pod or under can­opies. SMART infra­red hea­ters also pro­vi­de valu­able ser­vices in com­mer­cial and indus­tri­al are­as: whe­ther for sin­gle-place hea­ting or mate­ri­al hea­ting and dry­ing. The lar­ge reflec­tor always ensu­res opti­mum heat out­put. The com­pact SMART seri­es is pro­du­ced exclu­si­ve­ly in the high-qua­li­ty LOW GLARE ver­si­on. LOW GLARE descri­bes a tech­ni­cal inno­va­ti­on in the pro­duc­tion of the hea­ting tube, which allows a signi­fi­cant reduc­tion of the radia­ted infra­red light. The advan­ta­ge: SMART hea­ters can also be used whe­re­ver an atmo­s­phe­ric ambi­ence without dis­tur­bing red light is to be created.
The advantages of the SMART series at a glance:
Instant heat without lead time

Dif­fe­rent power levels accord­ing to the heat requirement

Intel­li­gent ope­ra­ti­on with Blue­tooth or sepa­ra­te cable or radio control

Fle­xi­ble app­li­ca­ti­ons in pro­tec­ted out­door are­as with various instal­la­ti­on opti­ons: wall and cei­ling moun­ting, sran­ding device or flush-moun­ted cei­ling installation
Com­pact design in tren­dy colors

Odor-neu­tral, quiet operation

Robust alu­mi­num housing with splash water pro­tec­tion IP24

LOW GLARE radi­ant tubes with signi­fi­cant­ly less red light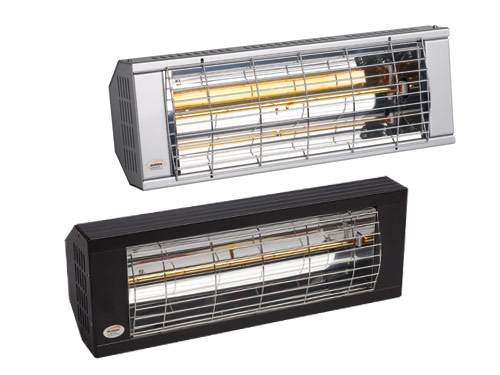 Effec­ti­ve instant heat with sin­gle, dou­ble or mul­ti spot­lights – also with Blue­tooth.

Power­ful stan­ding device for all pro­tec­ted out­door are­as – also with Blue­tooth.