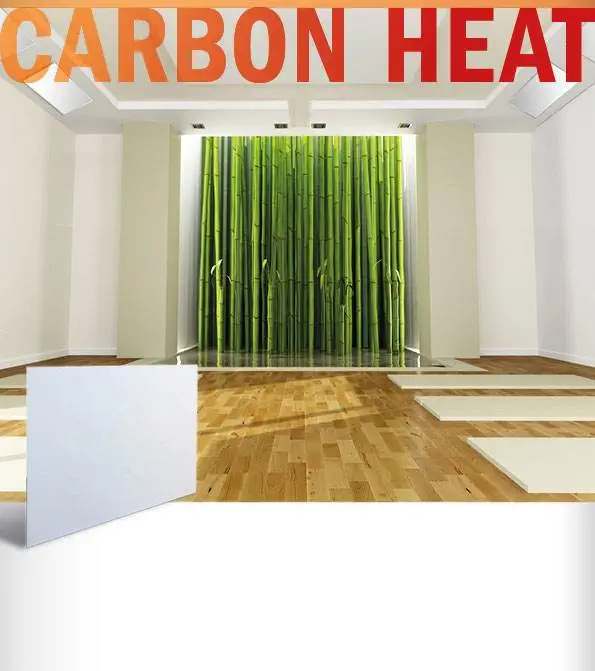 Energy-saving infrared heating with a 5-year manufacturer's guarantee

CARBON HEAT FRAMELESS
Frameless infrared heating element with high-tech nanocarbon. Reduces energy consumption during heating by an additional 15 to 20 per cent!
The front surface of the heating panel is made of a 2.5cm-thick heating element that radiates a pleasant, even warmth. The front heating plate is injected with an extremely fine nanocarbon powder. This is highly efficient at converting electrical energy into warmth right into the furthest corners of the unit. In this way, the energy consumption of the heating element is reduced by as much as 15 to 20 percent compared to conventional models. An internal reflector and custom mounting system prevent most reverse and convection heating, providing even better heating performance.
Unique technology and elegant design for an unexpectedly cosy atmosphere
With its delicately textured, mineral-covered white surface, the Carbon Heat Frameless fits in discreetly with your existing ceiling and wall set up. The mount and fittings are included, together with detailed instructions for wall or ceiling installation. Two built-in temperature monitors provide protection from overheating, turning the unit off immediately if the heating element becomes too hot (e.g. if it gets covered accidentally). Once it has cooled, the infrared heater automatically turns itself back on.

At a glance:
High-tech nanocarbon surface

Reduces energy consumption by 15 – 20 %

Frameless

25 mm thick

Internal reflector = nearly 100%
of the heat is radiated forward

Safety shut-off prevents overheating

Fittings supplied

Includes 1.9m cable and plug

5-year guarantee


| Item no. | Surface | Dimensions (cm) | Outputt | Weight | Heatable area / m² |
| --- | --- | --- | --- | --- | --- |
| BHPCAH6090600m | Mineral white | 60 x 90 x 2,5 | 600 Watt | 9 kg | 11 – 13 |
Are you a dealer or potential reseller, or looking to fit out a major project?
Please get in touch with our sales department directly for price lists, terms and project advice. You can reach our sales support team by phone on +49 6173 32424-0, or send us a message using our contact form.
HEATPANELS – infrared heating