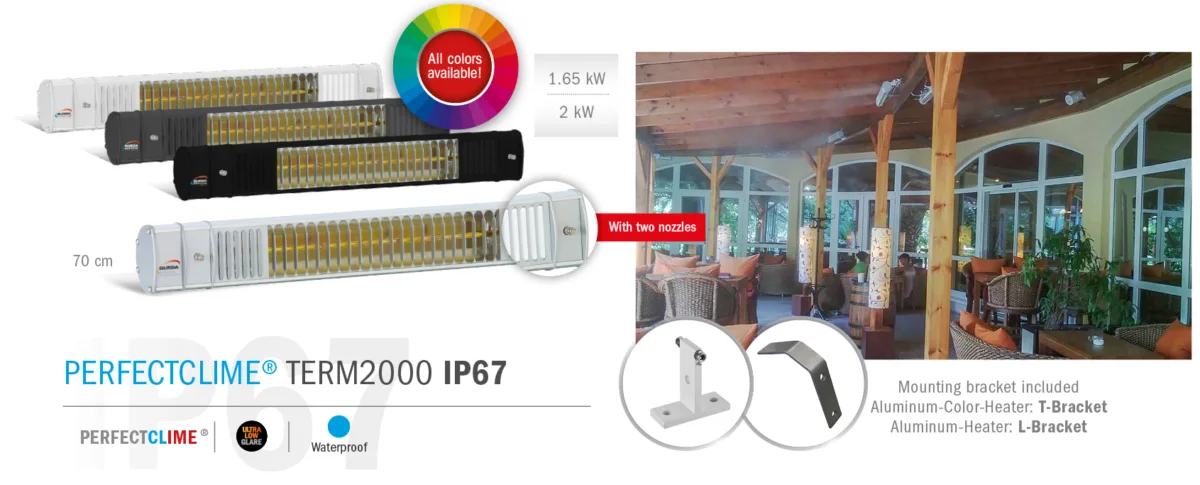 PERFECTCLIME® TERM2000 IP67
The first Heating & Cooling Sensation — patented by Burda WTG!
Based on the succesfull heater series TERM2000 IP67, the PERFECTCLIME® version comes with two cooling nozzles that are attached on either side of the robust aluminum housing. This patented combination is certified for outdoor areas and allows for instant warmth on cold days or cool temperatures  on hot days in only one device. The waterproof heating & cooling device varies in length, color and output level from 1650 up to 2000 watts. PERFECTCLIME® TERM2000 IP67 is equipped with ULTRA LOW GLARE tubes which emitt  up to 70 percent less red light.
PERFECTCLIME® devices deliver instant warmth or refreshing cool air for the perfect temperature wherever and whenever needed. Guaranteed warmth at the touch of a button, based on the successful TERM2000 heaters series and the super-fine cooling mist of the integrated cooling nozzles lead to a comfortable atmosphere with almost unlimited potential for professional and private use in all outdoor areas. PERFECTCLIME® heating & cooling devices are waterproof, weather-resistant and durable.

The advantages of PERFECTCLIME® at a glance:
Extremely fast heating and cooling without lead time, simply at the touch of a button

Practical and cost-efficient, because you invest in just one device with two functions.

Intelligent outdoor solution with individual temperature control for the perfect feel-good atmosphere on cool evenings and hot days

Flexible use in outdoor areas.
Timeless design in many colors that adapt easy to the environment
xxxxx

Odor-neutral, no-noise
xxxxxxxxxxxx

Waterproof housing with protection class IP67
x

ULTRA LOW GLARE radiant tubes with up to 70% less red light
Protection: IP67, waterproof

Performance: 1650 to 2000 watt

Color: polished aluminum, black, white, grey. Other RAL colors against surcharge–

Dimensions (wxhxd): 70 x 9,5 x 12,5 cm

Assembly: wall and ceiling

Connection: 1/N/PE ~ 230 V 50 Hz

PLEASE NOTE
Up from 2kW we recommend to use 16A slow blow fuses (C16)!

WEEE-Reg.-Nr.:

DE50492100
Connection and operation
A water pump with a pressure of at least 70 bar is required to use the cooling nozzle, which atomizes the water into the finest molecules at high pressure. This avoids a drip effect, so that people and objects are not moistened or even soaked. As soon as the cooling nozzles are activated, they spray the finest water mist at short intervals, which lowers the temperature in a matter of seconds and provides refreshment. For commissioning with a pump and supply line, we offer you a large selection of products in our PERFECTCLIME® ACCESSORIES center.