Tube Heaters: Ultra Low Glare
the new generation of lights 100% heat but 80% less light!

The new "Ultra Low Gla­re" hea­ter series from Bur­da World­wi­de Tech­no­lo­gies GmbH offers instant heat and an extra­or­di­na­ry cand­le-light atmo­s­phe­re at the same time. The spe­cial coa­ting of the lamps insi­de and out­si­de fil­ters and redu­ces light by 80% wit­hout loss of heat. In that way it crea­tes a very sof­ten light source, which does not influ­ence exis­ting ambi­ence illu­mi­na­ti­on on ter­races and on bal­co­nies.
Ultra Low Gla­re pro­duc­ts offer a con­vin­cing com­bi­na­ti­on of very effi­ci­ent infra­red heat as well as per­fect light reduc­tion for a cand­le light atmo­s­phe­re. In the gas­tro­no­my as well as at home, the new pro­duct series "Ultra Low Gla­re" is the new suc­cess­ful solu­ti­on in the mar­kets.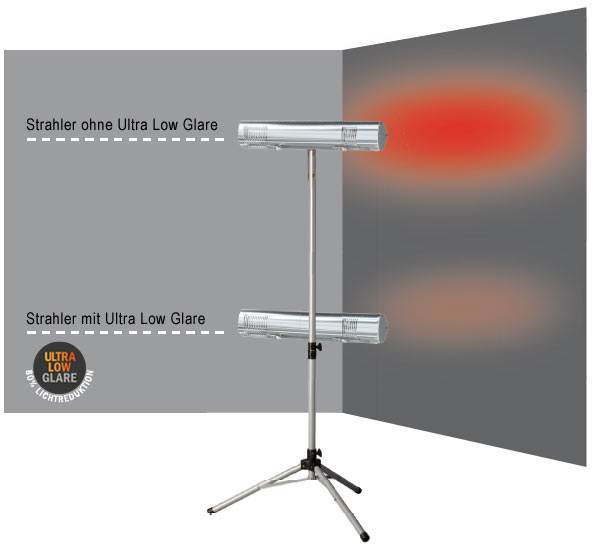 As of now optional available in the high quality heater series
TERM2000

,

IP24

,

IP65

and

IP67

as well as for all

PERFECTCLIME

heaters.
MODULAR

HEATING

,

COOLING

AND

LIGHTING

SYSTEMS
TERM2000

Blue­tooth

COLOR

IP67
TERM2000

IP67

STANDARD

Polished alu­mi­num
TERM2000

COLOR

IP67

(610 mm)
TERM2000

L

&

H

IP65

(200 cm)
TERM2000

L

&

H

IP65

, swi­ve­ling spot­lights
TERM2000
IP44
ULTRA
LOW
GLARE