BURDA WTG heaters with io-homecontrol® two-way wireless technology and Somfy
Awnings, rol­ler shut­ters and exter­nal blinds are alre­a­dy being ser­viced in mil­li­ons of house­holds world­wi­de with the lea­ding io-hom­con­trol® radio con­trol sys­tem. Now, the Ger­man manu­fac­tu­rer of infrared hea­ters Bur­da WTG joins the exclu­si­ve cir­cle of pro­vi­ders. From the fall, patio hea­ters of the RELAX GLASS and TERM2000 io-home­con­trol® series are com­pa­ti­ble and can be easi­ly inte­gra­ted into exis­ting radio con­trol sys­tems. It is con­trol­led by Som­fy wire­less hand trans­mit­ters which, in addi­ti­on to swit­ching on and off, enable a 3-stage heat regu­la­ti­on of the radi­ant heaters.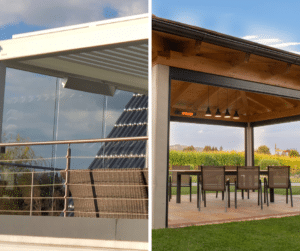 The bi-direc­tion­al radio sys­tem io-home­con­trol® offers the pos­si­bi­li­ty to cen­tral­ly and wire­less­ly con­trol the most diver­se appli­ca­ti­ons from dif­fe­rent trades. The advan­ta­ge is cle­ar­ly the cen­tral con­trol via a remo­te con­trol, which cor­re­sponds to all io-home­con­trol® com­pa­ti­ble appli­ca­ti­ons. The con­su­mer can ope­ra­te up to five appli­ca­ti­ons via a Som­fy remo­te con­trol trans­mit­ter – com­ple­te­ly inde­pendent­ly of each other. If it gets too cold on the ter­race, for exam­p­le, the awning will retract and the radi­ant hea­ter will come on. In addi­ti­on dim­med light and the feel-good atmo­sphe­re is perfect.
Get more infor­ma­ti­on about BURDA hea­ters with io-homecontrol®