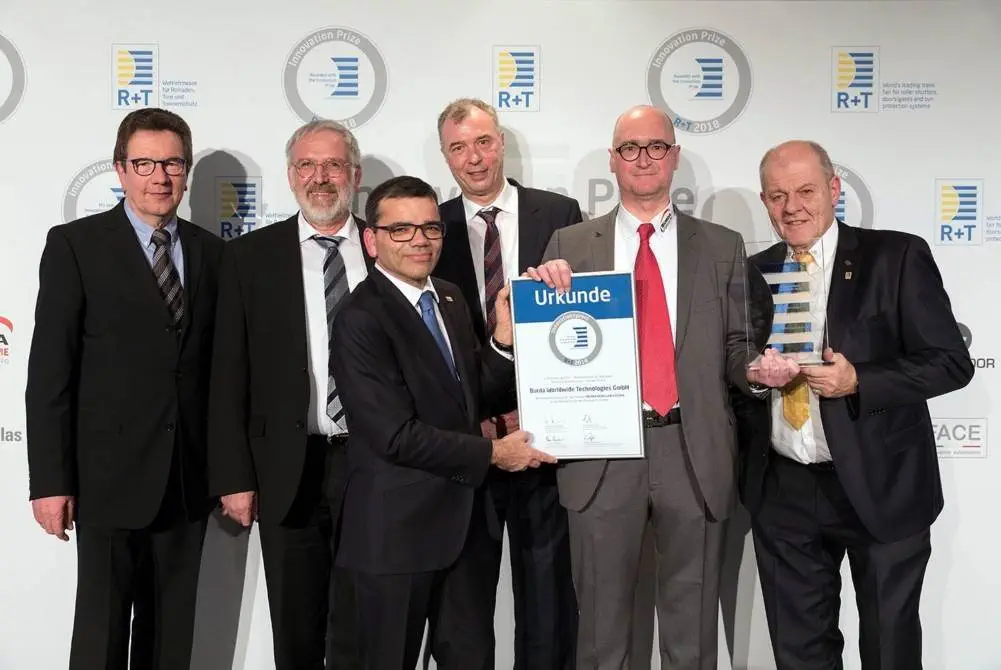 Burda WTG wins Innovation Prize R+T 2018
With a brand-new and unique concept for climate control in outdoor areas, the German company Burda Worldwide Technologies GmbH is creating a furore. The patented MODULAR SYSTEM combines infrared heaters with LED lights and cooling nozzles that fit perfectly into all kinds of conservatory, under any awnings, terrace roofing or pergolas. With their new MODULAR SYSTEM, Burda WTG presents the first system for the outdoor and hospitality sector which can be installed in any combination of colour, length and function according to the customer's requirements. That is why the company was awarded with the renowned R+T Innovation Prize 2018 for technical progress and exemplary innovation on 26 February at the world's leading trade fair R+T 2018, in Stuttgart.
Award-winning, tailor-made awning solutions for a cosy terrace
The simple plug-in system enables the easy extension or reduction of the system at any time, by adding or removing individual modules. Instead of using several individual heaters, the patented plug-in system results in a neat, compact unit, with a flush surface. It combines infrared heating elements with LED modules or cooling nozzles, which can be precisely tailored to meet the client's temperature and design requirements. They can also be adapted to match any colour scheme. Special brackets allow the modules to be hung under awnings or to be mounted on walls and under ceilings. The new product innovation targets customers in the areas of hotels, restaurants, system-gastronomy, hospitality settings, private households, as well as i.e. manufacturers of awnings and conservatories.
Technically advanced and optically pleasing heating solutions for private or commercial purposes
The core element of the plug-in system is a waterproof 2,000 watt infrared heater (IP67 or IP65), which requires no pre-heating, providing pleasant instant heat. The heaters are fitted with eye-friendly ULTRA LOW GLARE tubes, which produce 80% less glare. The heater can be combined with energy-saving LED spots (3.5 watts) and cooling nozzles. PERFECTCLIME® nozzles have to be connected to a water pump. The fine mist cools down the temperature by up to 12-15°C.
Review:
Burda WTG with visitor records at the R + T 2018