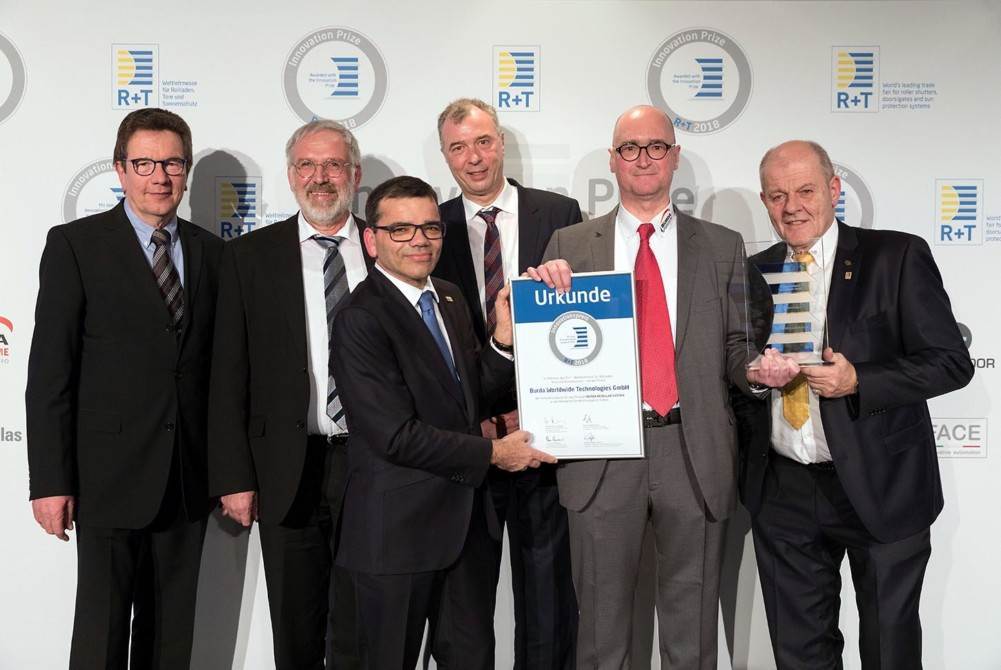 Burda WTG wins Innovation Prize R+T 2018
With a brand-new and uni­que con­cept for cli­ma­te con­trol in out­door are­as, the Ger­man com­pa­ny Bur­da World­wi­de Tech­no­lo­gies GmbH is crea­ting a furo­re. The paten­ted MODULAR SYSTEM com­bi­nes infrared hea­ters with LED lights and coo­ling nozz­les that fit per­fect­ly into all kinds of con­ser­va­to­ry, under any awnings, ter­race roofing or per­go­las. With their new MODULAR SYSTEM, Bur­da WTG pres­ents the first sys­tem for the out­door and hos­pi­ta­li­ty sec­tor which can be instal­led in any com­bi­na­ti­on of colour, length and func­tion accor­ding to the customer's requi­re­ments. That is why the com­pa­ny was award­ed with the renow­ned R+T Inno­va­ti­on Pri­ze 2018 for tech­ni­cal pro­gress and exem­pla­ry inno­va­ti­on on 26 Febru­ary at the world's lea­ding trade fair R+T 2018, in Stuttgart.
Award-winning, tailor-made awning solutions for a cosy terrace
The simp­le plug-in sys­tem enables the easy exten­si­on or reduc­tion of the sys­tem at any time, by adding or remo­ving indi­vi­du­al modu­les. Ins­tead of using seve­ral indi­vi­du­al hea­ters, the paten­ted plug-in sys­tem results in a neat, com­pact unit, with a flush sur­face. It com­bi­nes infrared hea­ting ele­ments with LED modu­les or coo­ling nozz­les, which can be pre­cis­e­ly tail­o­red to meet the client's tem­pe­ra­tu­re and design requi­re­ments. They can also be adapt­ed to match any colour sche­me. Spe­cial bra­ckets allow the modu­les to be hung under awnings or to be moun­ted on walls and under cei­lings. The new pro­duct inno­va­ti­on tar­gets cus­to­mers in the are­as of hotels, restau­rants, sys­tem-gas­tro­no­my, hos­pi­ta­li­ty set­tings, pri­va­te house­holds, as well as i.e. manu­fac­tu­r­ers of awnings and conservatories.
Technically advanced and optically pleasing heating solutions for private or commercial purposes
The core ele­ment of the plug-in sys­tem is a water­pro­of 2,000 watt infrared hea­ter (IP67 or IP65), which requi­res no pre-hea­ting, pro­vi­ding plea­sant instant heat. The hea­ters are fit­ted with eye-fri­end­ly ULTRA LOW GLARE tubes, which pro­du­ce 80% less gla­re. The hea­ter can be com­bi­ned with ener­gy-saving LED spots (3.5 watts) and coo­ling nozz­les. PERFECTCLIME® nozz­les have to be con­nec­ted to a water pump. The fine mist cools down the tem­pe­ra­tu­re by up to 12-15°C.
Review:
Bur­da WTG with visi­tor records at the R + T 2018